We're Getting Mutants in the MCU - The Loop
Play Sound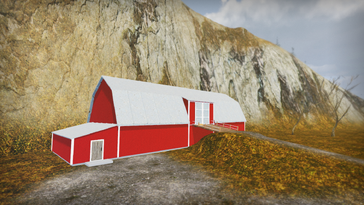 The Weed Dealers' Barn is a secluded building owned and used by the Weed Dealers on the mainland of Quebec. It is located off of a long unpaved road, near the western shore of the mainland. It is open every day, from 10:00 to 20:00.
The Barn is composed of two sections: The hayloft doors serve as a sell point for Cannabis bundles; the interior acts as a hangout location for the Dealers, and as a shop for them to sell growing equipment and accessories.
Unlocking the Barn
The Barn's interior will, initially, be off-limits to the player character. To unlock it, you can gain the trust of the Dealers by completing their latest Cannabis order: Bring 12 big packs of cannabis joints to the hayloft doors, and fill the box outside; you'll be paid $370.00 for each big pack delivered.
After the order is filled, you're able to enter the Barn's interior through the door to the left, and interact with the Dealers inside. Additionally, you'll be able to continue selling big packs of joints for $370.00 using this same sell point, or huge packs for $10,000.
The Barn's Interior
Four cannabis dealers share the barn: L'allumé, Sebastien, Dahves, and Bobby. During business hours, they can be found spread across the two couches inside the main room, and will be available to sell the player a number items useful for large-scale cannabis production.
Items Available for Sale: