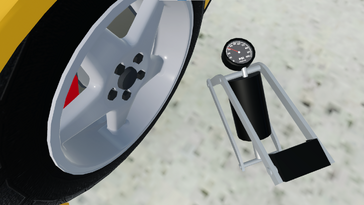 The Tire Pump is a hand operated air pump with a built in pressure gauge used to inflate and deflate the Konig's tires. The player does not initially own this tool, so it must be purchased from Kali-Gas for $44.00.
With the Tire Pump equipped, you're able to adjust the pressure of any tire and wheel in the game, regardless of whether they're on the Konig or not. Pressing the Left Mouse Button will raise the pressure by one PSI; holding the Left Mouse Button will rapidly inflate a tire. Pressing the Right Mouse Button will lower it by one; holding the Right Mouse Button will rapidly deflate a tire.
Depending on driving style, the optimal range for tire inflation is between 30 PSI and 40 PSI. Inflating a tire beyond 50 PSI runs the risk of having it burst from the wheel; the tire won't be damaged, but it will need to be reseated on the rim using a Tire Changer.