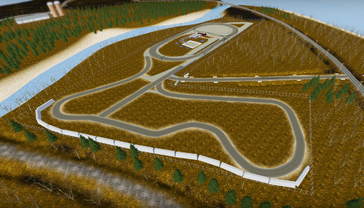 The Speedway is a large motorsport complex found on the southwestern islands of the map. It is owned by Normand and is accessible after achieving Friendship Level 50 with him, and donating $70,000 towards renovations to have it reopened.
Initially, the player will find the Speedway has been shut down due to multiple noise complaints brought against it. To bring it up to code and be operational, you'll need to befriend the Speedway owner, Normand. After doing so, he'll give you the opportunity to donate $70,000 towards installing soundproof barriers around the facility. When they're built a couple weeks later, the Speedway will be open and accessible, day and night.
The Speedway has a large paved oval circuit, a drag strip, a track course, a Derby Arena, and a small apartment and garage for the player to use. The apartment has most of the amenities found in the Mobile Home: A bed, a Computer, and a small refrigerator for storing your Poutine and Maple Syrup. Stepping out into the garage, you'll find a Tire Changer, Air Compressor, Mechanic's Creeper, Scale, and a storage shelf. This is also where you'll find the unfinished chassis of a Racecar, and a list of time trial challenges for your Konig.