The OlTruck is one of three vehicles immediately available to the player. It comes equipped with a 4-speed manual transmission, a 4-wheel drive transfer case, a ball hitch for hauling a Trailer or Wood Splitter, and a spacious bed for hauling cargo. OlTruck takes design inspiration from a third generation Chevrolet C/K.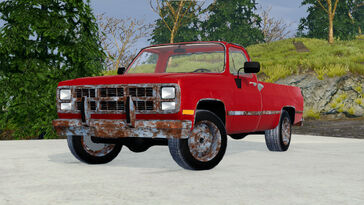 Exterior Customization:
Dents and blemishes can be pulled with the Dent Repair Kit.
Rust on the body panels and chrome trim can be removed with the Rust Repair Kit.
Cans of Spray Paint can be purchased from Kali-Gas and the Traveling Van to change the color and finish of the OlTruck. The main body, both doors, and all four rims can be painted independently.
Interior Customization:
Cans of Spray Paint can also be used to change the interior color and finish of the OlTruck. The seat and dash are considered to be one paintable part, together.