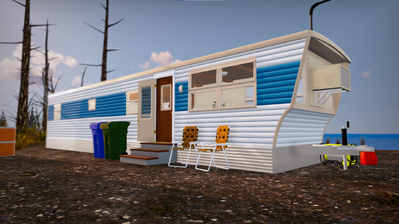 The Player's home is a single wide trailer set upon a decently sized plot of land, with a small garden shed outside, Trash and Recycling bins for waste disposal, a fire pit in the back, and a concrete slab perfect for building a Garage. It is located on the southern coast of the easternmost island on the Map, circled with the caption Roulotte.
Inside the trailer, the player can find a bed to pass the night and reset their Energy Bar, a closet to change their shirt color, a Computer where they can save the game, and a refrigerator stocked with Maple Syrup and Poutine.
Initially, the trailer will not be connected to any Utility Services, and the player relies on a portable Generator for electricity. All electrical appliances in the house will need the generator to be running before they can be used, such as the lights, computer, Deep Fryer, etc.
The player is free to Cut and Plant any Trees they find on the land they own, in addition to Starting a Garden of Potatoes or Cannabis.
Further afield, the player can find a location that'd be perfect to build a Sugar Shack. Doing so will allow them to start tapping into the numerous Maple trees dotted around their land, and harvesting the sugar water they contain for making their own Maple Syrup.