The Konig is one of three vehicles immediately available to the player, and is the main project car of the game. It's the only car allowed to race in the night race, as anything else is, "... Not a race car."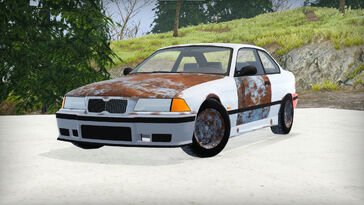 First Time Setup and Assembly:
When starting a new game, the Konig will be partially disassembled and unable to start. A few parts must be installed and a few bolts tightened before the player can take the car anywhere.
Install the front driver wheel (located in the shed).
Mount the intake manifold on the motor (located in the shed).
Tighten the nuts on all four wheels and the intake.
While the car can be started after all the bolts are tight, its tires are still flat, and it will be hard to control. To inflate the tires, you will need to buy a Tire Pump at the gas station (Kali-Gas) in town. To achieve the best grip, inflate the tires to between 30psi and 40psi. Overinflating the tires can cause them to pop off the rims, and having unevenly inflated tires can make the car pull left or right.
The driver's seat can be adjusted forward, backward, up, and down using the handles on the side of the seat cushion. Both seats can be leaned forward using the handles on their backrests.
Performance Customization:
Part Name
Available from...
Price ($)
Number of Bolts
Special Notes
Powertrain
Stock Engine Block
Pre-Installed
n/a
Four 12mm Bolts
Performance Engine Block
Kali-Gas
4899.88
Four 12mm Bolts
4-Speed Automatic Transmission
Pre-Installed
n/a
Seven 12mm Bolts
5-Speed Manual Transmission
Scrapyard
Free
Seven 12mm Bolts
Found in the dumpster towards the back of the lot
Open Differential
Pre-Installed
n/a
Eight 12mm Bolts
Welded Differential
Sand Pit
Free
Eight 12mm Bolts
Found in the dumpster more inland, towards the left hand side of the circle on the in-game map
Limited-Slip Differential (LSD)
Traveling Van
1499.99
Eight 12mm Bolts
Engine and Performance
Rusted OEM Exhaust Manifold
Pre-Installed
n/a
Six 12mm Bolts
Performance Exhaust Manifold
Traveling Van
549.99
Six 12mm Bolts
*Turbocharged Exhaust Manifold
Traveling Van
2849.99
Six 12mm Bolts
All turbocharged components must be used together when installing them in the Konig; you should not mix turbocharged and non-turbocharged components.
Rusted OEM Exhaust Pipe
Pre-Installed
n/a
Four 12mm Bolts
Shares two bolts with the exhaust manifold
Performance Exhaust Pipe
Kali-Gas
120.99
Four 12mm Bolts
Shares two bolts with the exhaust manifold
OEM Intake Manifold
Pre-Installed
n/a
Four 12mm Bolts
Individual Throttle Bodies (ITB Intake)
Traveling Van
1399.99
Three 12mm Bolts
*Turbocharged Intake Manifold
Traveling Van
999.99
Three 12mm Bolts
All turbocharged components must be used together when installing them in the Konig; you should not mix turbocharged and non-turbocharged components.
*Turbocharger Intercooler
Traveling Van
450.99
Two 12mm Bolts
All turbocharged components must be used together when installing them in the Konig; you should not mix turbocharged and non-turbocharged components.
ECU - Stock
Pre-Installed
n/a
One 12mm Bolt
Installs within the glovebox
ECU - Tunable
Traveling Van
549.99
One 12mm Bolt
Installs within the glovebox; tune Boost, ABS, and Traction Control by interacting with the LCD on the side.
Nitrous Mount
Traveling Van
399.99
Two 12mm Bolts
Bottle of Nitrous
Traveling Van
349.99
None
Can be refilled at the van for $69.99
Brakes
Weak OEM Calipers
Pre-Installed
n/a
Two 12mm Bolts
OEM Calipers
Kali-Gas
124.99/ea.
Two 12mm Bolts
Performance Calipers
Traveling Van
199.99/ea.
Tow 12mm Bolts
Rusted OEM Rotors
Pre-Installed
n/a
None
OEM Rotors
Kali-Gas
10.99/ea.
None
Broken ABS Module
Pre-Installed
n/a
One 12mm Bolts
ABS Module
Kali-Gas
299.98/ea.
One 12mm Bolts
Prevents skidding due to locking the wheels
Suspension and Handling
Rusty Wheel Bearing
Pre-Installed
n/a
One 20mm Bolt
Wheel Bearing
Kali-Gas
39.99
One 20mm Bolt
Wheel Spacer - 10mm
Traveling Van
79.99
None
Attaches using the existing 20mm bolt on the Wheel Bearing
Wheel Spacer - 20mm
Traveling Van
99.99
None
Attaches using the existing 20mm bolt on the Wheel Bearing
Wheel Spacer - 30mm
Traveling Van
119.99
None
Attaches using the existing 20mm bolt on the Wheel Bearing
Wheel Spacer - 40mm
Traveling Van
139.99
None
Attaches using the existing 20mm bolt on the Wheel Bearing
Wheel Spacer - 50mm
Traveling Van
159.99
None
Attaches using the existing 20mm bolt on the Wheel Bearing
Wheel Spacer - 60mm
Traveling Van
179.99
None
Attaches using the existing 20mm bolt on the Wheel Bearing
Wheel Spacer - 70mm
Traveling Van
199.99
None
Attaches using the existing 20mm bolt on the Wheel Bearing
OEM Front and Rear Sway Bars
Pre-Installed
n/a
Two 12mm Bolts
Street Front and Rear Sway Bars
Kali-Gas
219.69/ea.
Two 12mm Bolts
Race Front and Rear Sway Bars
Traveling Van
419.99/ea.
Two 12mm Bolts
Front Strut Bar
Kali-Gas
109.69
Six 12mm Bolts
Shares all six bolts with the existing shocks
Rear Strut Bar
Kali-Gas
84.99
Six 12mm Bolts
Shares all six bolts with the existing shocks
OEM Front A-Arms
Pre-Installed
n/a
Three 12mm Bolts
Adjustable Front A-Arms
Traveling Van
299.69/ea.
Three 12mm Bolts
Can manually adjust camber
OEM Rear A-Arms
Pre-Installed
n/a
Two 12mm Bolts
Adjustable Rear A-Arms
Traveling Van
219.69/ea.
Two 12mm Bolts
Can manually adjust camber
Blown Shocks
Pre-Installed
n/a
Five 12mm Bolts
OEM Shocks
Kali-Gas
74.99/ea.
Five 12mm Bolts
Sports Shocks
Kali-Gas
164.99/ea.
Five 12mm Bolts
Rally Shocks
Traveling Van
198.68/ea.
Five 12mm Bolts
Must win the Demolition Derby to unlock
Adjustable Shocks
Traveling Van
399.88/ea.
Five 12mm Bolts
Can manually adjust spring stiffness and ride height
Winter Tires
Pre-Installed
n/a
None
All-Season Tires
Scrapyard
Free
None
Must be fitted at a Tire Changer
Summer Tires
Kali-Gas
159.50/ea.
None
Must be fitted at a Tire Changer
Sport Tires
Kali-Gas
299.69/ea.
None
Must be fitted at a Tire Changer
Exterior Customization:
Part Name
Available from...
Price ($)
Number of Bolts
Special Notes
Bodywork
Front Bumper
Scrapyard
Free
Two 12mm Bolts
OEM Hood
Pre-Installed
n/a
Four 12mm Bolts
Can also be purchased from the Traveling Van for $320.99
Race Hood
Traveling Van
699.99
Four 12mm Bolts
Clear Hood
Traveling Van
899.69
Four 12mm Bolts
Carbon Fiber Hood
Traveling Van
1499.99
Four 12mm Bolts
OEM Trunk Lid
Pre-Installed
n/a
Four 12mm Bolts
Can also be purchased from the Traveling Van for $350.99
Carbon Fiber Trunk Lid
Traveling Van
998.79
Four 12mm Bolts
Driver Side Door
Pre-Installed
n/a
Two 12mm Bolts
Passenger Side Door
Pre-Installed
n/a
Two 12mm Bolts
OEM Spoiler
Night Race
Free
Two 12mm Bolts
Obtained after 5 consecutive race wins
Spoiler - Lip
Night Race
Free
Two 12mm Bolts
Unique Spoiler. Beat Tom in a race.
Custom Spoiler 1
Traveling Van
324.99
Two 12mm Bolts
Custom Spoiler 3
Traveling Van
310.99
Two 12mm Bolts
Custom Spoiler 4
Traveling Van
268.99
Two 12mm Bolts
Wooden Spoiler
Martin's House
Free
Two 12mm Bolts
Unique spoiler. Found behind Martin's house.
Konig Eyelashes
Kali-Gas
15.99/ea.
None
Wheels
Old Steel Rims
Pre-Installed
n/a
Five 12mm Bolts
OEM Rims
Scrapyard
Free
Five 12mm Bolts
Must be fitted with tires at a Tire Changer
Custom Rims, 1-6; Tuned Rims
Kali-Gas
599.99/ea.
Five 12mm Bolts
Must be fitted with tires at a Tire Changer
Custom Wheel - Plexi
Traveling Van
354.99/ea.
Five 12mm Bolts
Must be fitted with tires at a Tire Changer
Custom Wheel - Flower
Traveling Van
149.99/ea.
Five 12mm Bolts
Must be fitted with tires at a Tire Changer
Exhaust Tips
Rusted Muffler
Pre-installed
n/a
Two 12mm Bolts
OEM Muffler
Kali-Gas
79.99
Two 12mm Bolts
Aftermarket Mufflers, 1-4, 6-8
Kali-Gas
139.69
Two 12mm Bolts
Aftermarket Muffler, 5
Night Race
Free
Two 12mm Bolts
Unique Muffler. Beat Luc in a Race.
Miscellaneous
Window Tint; asst. colors
Kali-Gas
19.99/ea.
None
Each roll contains enough tint for six uses. Removed with Window Film Remover.
Underglow Kit
Kali-Gas
69.99
None
Installs in front of the center console
Paint and Finish; asst. colors
Kali-Gas and Traveling Van
12.99/ea.
n/a
The main body, roof, hood, grille, trunk, spoiler, rims, both bumpers, both doors, and both mirrors can all be painted independently
Interior Customization:
Part Name
Available from...
Price ($)
Number of Bolts
Special Notes
Upholstery
OEM Seats
Pre-Installed
n/a
Four 12mm Bolts
Comfy Seat
Kali-Gas
198.99/ea.
Four 12mm Bolts
Paintable
Sport Seat
Traveling Van
799.99
Four 12mm Bolts
Paintable
Steering Wheels
OEM Steering Wheel
Pre-Installed
n/a
One 12mm Bolt
Classic Steering Wheel
Kali-Gas
120.99
One 12mm Bolt
Race Steering Wheel
Kali-Gas
188.99
One 12mm Bolt
Race Steering Wheel 2
Kali-Gas
222.99
One 12mm Bolt
Deep Dish Steering Wheel
Kali-Gas
299.99
One 12mm Bolt
Wood Steering Wheel
Kali-Gas
296.99
One 12mm Bolt
Bus Steering Wheel
Kali-Gas
Free
One 12mm Bolt
Unique steering wheel. Found in the back garage, on top of a toolbox.
Modified Grinder Disc
Kali-Gas
Free
One 12mm Bolt
Unique steering wheel. Found in the back garage, on top of a toolbox.
Shifter Knobs
OEM
Pre-Installed
n/a
None; use spanner to remove
Knuckle
Kali-Gas
39.99
None; use spanner to remove
Wood
Kali-Gas
28.69
None; use spanner to remove
8 Ball
Kali-Gas
19.99
None; use spanner to remove
Sphere Paintable
Traveling Van
21.99
None; use spanner to remove
Clear Sphere Paintable
Traveling Van
31.99
None; use spanner to remove
Carbon
Traveling Van
59.69
None; use spanner to remove
Titanium:

Blue, Pink, Red, Green

Traveling Van
39.99
None; use spanner to remove
Cylinder Paintable
Traveling Van
28.69
None; use spanner to remove
Clear Cylinder Paintable
Traveling Van
38.69
None; use spanner to remove
Electronics
Radio
Scrapyard
Free
None
Slots into the dash; any radio from the scrapyard can be used
Autometer - Speed
Traveling Van
29.99
None
Autometer - RPM
Traveling Van
69.99
None
Autometer - Gear
Traveling Van
49.99
None
Autometer - Boost
Traveling Van
39.99
None
Underglow Kit
Kali-Gas
69.99
None
Adds togglable footwell accent lighting