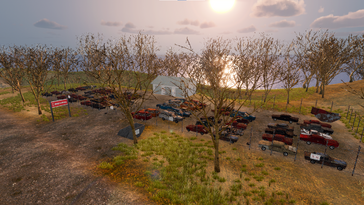 Jims U-Pull is a scrapyard (also known as junkyard) in the back-country of the northeast corner of the map. It's owned by Jacques, and is accessible only after achieving Friendship Level 25 with him.
Upon first unlocking the scrapyard, the player can find a new vehicle, Le Missile, tucked away in the rows of junk cars. You are free to take it, although it may require refueling, and it has a tendency to overheat.
A Tire Changer can be found near the pile of tires near the entrance, and can be used free of charge by the player; a stark contrast to the one in Kali-Gas, which costs $15 per tire mounted or unmounted.
Two components for the Buggy can be found tucked away among the tires and wrecked cars.
Many Konig upgrades, both performance and cosmetic, can be found here: