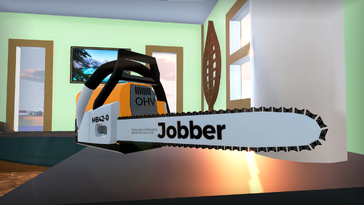 The Chainsaw is a tool used to fell Trees on any property the player owns. It can initially be found in the garden shed outside the Player's Home.
When equipped, the player may walk up to a Birch, Maple, or Pine tree and hold the Left Mouse Button to fell it. Once the tree is on the ground, holding the Left Mouse Button on the trunk a second time will split it into Logs. If the player wishes to split the logs into Firewood, they're going to need a Wood Splitter.
Should the player lose their Chainsaw, they can speak to Gilles in order to find it; you cannot purchase a second one.